Contact
Sikkim Tours & Travels,
Church Road, Gangtok-737101,
Sikkim, India.
Phone: 91- 7076601882
Email: sikkimtours@yahoo.com
Ecotourism in Sikkim
Ecotourism in Sikkim started in the year 1995-6 with trainings, awareness, changes in regulations to adapt to the mountainous terrain and entry of foreign tourists in many of restricted & protected areas. It took sizeable effort to augment the tourism activities based on nature exposition in the interior areas. Government emphasized further with the support of stake holders of the base line areas of parks and sanctuary. Gradual involvement of the people with village tourism activities has further enhanced the concept of ecotourism of Sikkim.
Three ethnic communities of Sikkim intermingle to live in harmony with their own customs and tradition, religious practices which are different from each other yet flow in a undisturbed line.
Bhutia's and Lepchas are predominantly Buddhist and to some extent Lepchas follow the nature worship rituals in the form of Bungthing. Lepchas are extremely good in the botanical aspect. Dominant population of Nepalese has different sub-caste and tribes following Hinduism, Buddhism as well practice nature worship. All three communities have different types of costumes, which are glitteringly beautiful. All three communities have their food culture mostly with less spices.
Bhutias numerous festivals mostly based on Buddhist philosophy including Loosong in which time entire people turn up in their traditional attire and attend Monastic Dance Festival.
Lepchas celebrate Namsoong which falls along side Loosong. Old and young turn up in a beautiful traditional attire. People with smiling faces gather in a place called Namprikthang in Dzongu a pure Lepcha reserve in Sikkim.
Nepalese has sub-caste and tribes which has its own customs, tradition and the attire are very colourful. Dasai & Tyohar are two major festivals including the festivals of different cast and tribes beside it.
Sikkim being a mountainous region has some 28 major mountain peaks including Mount Kanchendzonga the third highest peak in the world and Sinolchu one of the most graceful peak in the world. These snow clad mountain peaks are the feeder for two major rivers of Sikkim, Teesta and Rangit along with various tributaries. 180 lakes in Alpine and Sub-Alpine as well some in the temperate zone are other contributor to the bio-diversity of Sikkim.
39 species of Rhododendron, 558 Orchid species, nearly 600 species of birds, more than 2000 species of moths, 658 species butterflies and roughly 4000 species of flowering plants, numerous medicinal plants make Sikkim a unique destination of Ecotourism.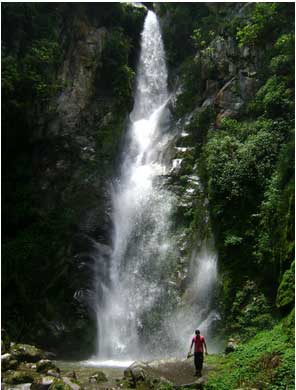 Protected parks and sanctuaries for ecotourism activities.

Kanchedzong National Park.
Singba Rhodendron Sanctuary.
Fambong Lho Wildlife Sanctuary.
Kyongnosla Alpine Sanctuary.
Maenam Wildlife Sanctuary.
Varsey Rhododendron Sanctuary.